LA VIDA ADVENTURE PURSUITS
Leader Resources
The Adventure Pursuits program is designed to support group leaders as they work with youth. Please contact the La Vida Center for Outdoor Education and Leadership office at 978.867.4111 or through email. Our Adventure Pursuits Director will be glad to assist you.
Please download the following Adventure Pursuits forms for your group event.
What to Expect
Adventure Pursuits can be a new or different experience from your regular meetings, classroom or activities. Group leaders can help participants prepare for the experience by talking about what to expect and how to get the most out of their time together.
PARTICIPANTS FEEL MORE PREPARED WHEN THEY KNOW:
Adventure Pursuits is designed to be a learning experience.
They will be active throughout the day.
They should dress appropriately in layers for the weather.
They will be working to solve problems in small groups.
They will be playing games and having fun.
They will be challenged but not pressured.
The success of this experience is not dependent on athleticism.
They will be doing activities outside on the ground (low course) and 20-30 feet in trees (high course).
Reflection is an important part of the day so they can learn from their experience and apply it to their lives.
All activities are conducted on a "challenge by choice" basis.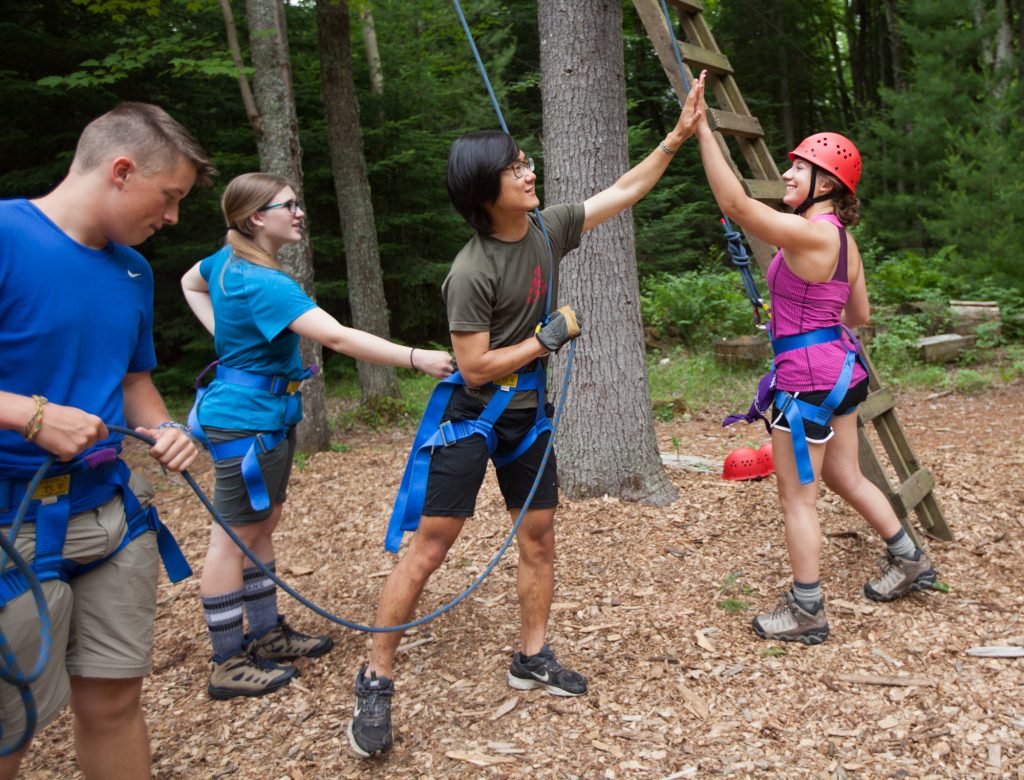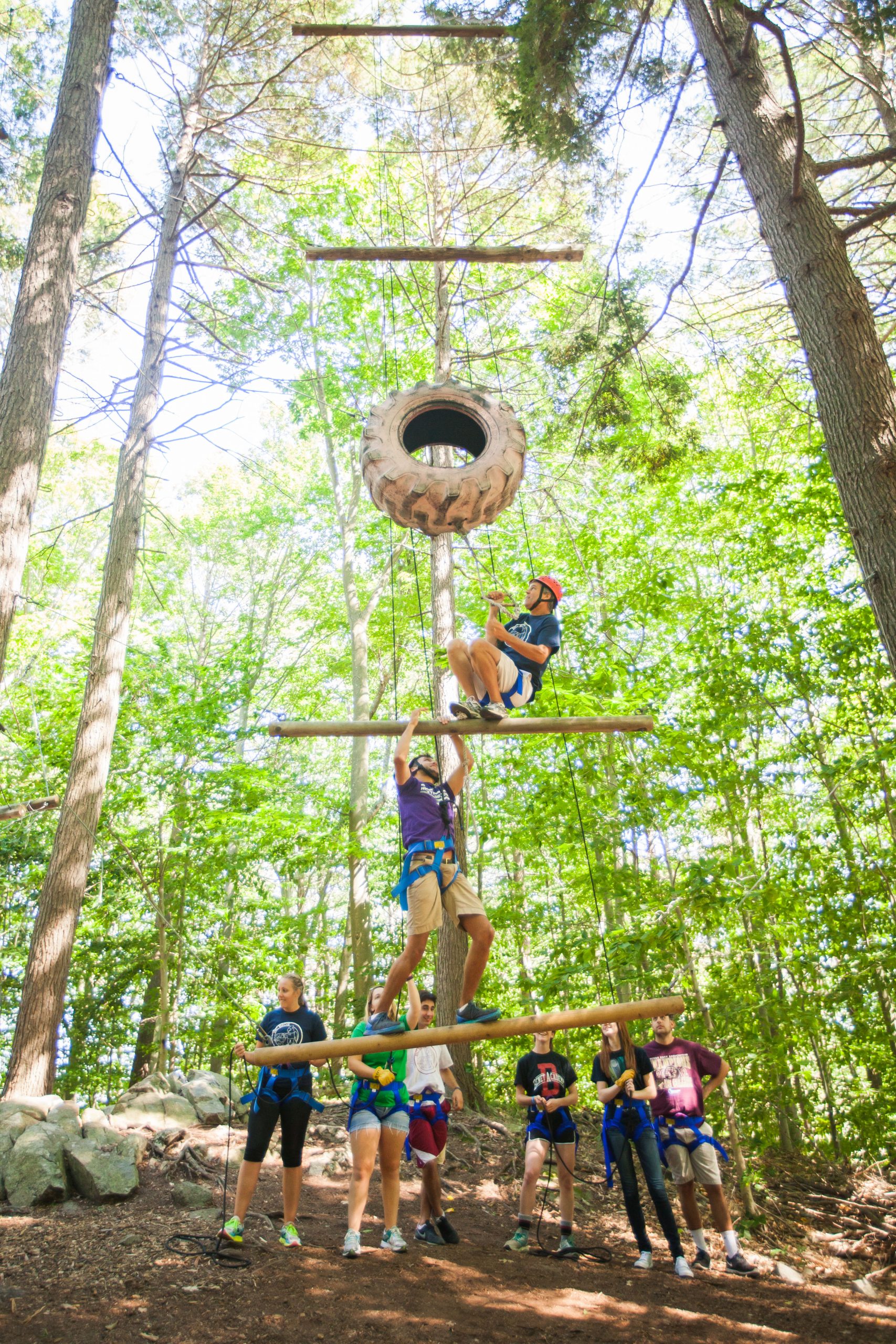 PREPARATION ACTIVITIES
The following are suggestions of activities to do with your group in order to prepare for the event.
Hopes and Fears Hat
Discussing hopes and fears with a group can alleviate fears, create a supportive growth community and allow people to see that they are not alone in the experience. Use two hats and some paper and pens. Everyone should write something that they hope will happen or a goal on a piece of paper. After writing it, drop it in the hope hat. On a second piece of paper, they write something that they are nervous or concerned about. Drop this paper in the fear hat. After everyone has put their papers in the hats, read them to the whole group. Discuss common hopes or fears that come up and how the group can support one another in the experience.
Goal-Setting Exercise
Goal setting has proven to be an effective way to help students be intentional about how they engage in an experience. Have each participant write down two goals for their experience. Each participant should write one of the goals on a blank sticker (like an address label) and attach it to their clothing. Everyone should then find people who have similar goals to themselves and stand together as a group. Each group can share what their goal for the day is. Be sure the goals are SMART goals (Specific, Measurable, Achievable, Realistic, Time sensitive).
Respect Brainstorm
Respect is a foundation of group work. This experience will directly or indirectly build on the participants' ability to respect one another. Brainstorm in small groups all of the different ways that someone can show respect to another person. As a large group, share and discuss how students can live these out during their Adventure Pursuits experience.
POST-ACTIVITY SUGGESTIONS
We encourage groups to continue the learning process after the experience. Below are different strategies and examples of ways to help participants apply learning after Adventure Pursuits.
Full Value Contract
On most days, groups will develop a Full Value Contract. This contract includes ways that a group will function and work well together as well as things they want to remember from their experience. You can come back to the full value contract by reviewing it, writing it down, posting it in a common area, acting it out, adding to it and discussing how to live it out.
Reflection and Processing
During the experience, facilitators use creative methods to help participants process. We have found that processing is a crucial step in helping participants apply the learning to their life. Facilitators have had success with the methods listed below and encourage leaders to try them with their groups. Here are a few examples of ways to continue engaging your group in the reflective process.
Develop a short skit in small groups that is a "snapshot" of an experience.
Have participants write or draw a postcard to themselves of what was learned during an experience. Collect the postcards and then send them to the participants at a later date.
Use a one-word "whip" around the circle in which participants pick one word to describe how they are doing, what happened, what they would like to "take away" or apply, what they have a question about, etc. After the word is shared, go around and allow people to give more explanation for why they chose that word.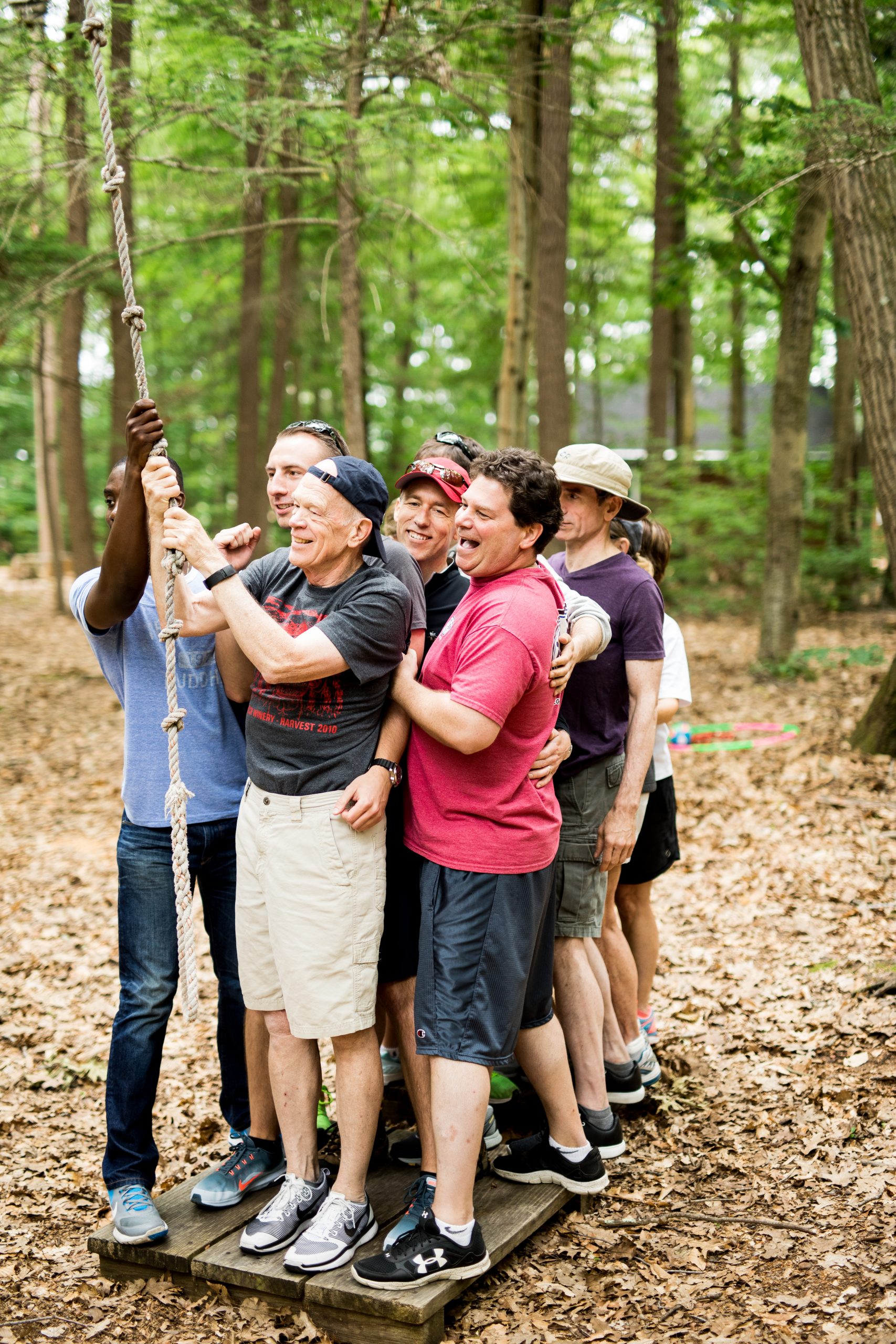 Additional Program Opportunities with the La Vida Center for Outdoor Education and Leadership

Adventure Pursuits welcomes back returning groups for a second or more advanced day at the low and high ropes course. Groups can use Adventure Pursuits to start their year with a team-building experience or as an end-of-the-year celebration.
The La Vida Center for Outdoor Education offers additional follow-up experiences for groups. Learn more about taking a group on a canoeing or backpacking trip with Adirondack Expeditions, using our Rock Gym for climbing lessons or special events, sending children to our Adventure Camp for 10–15 year-olds or encouraging individuals to apply for our 9-day Adirondack Leadership Program for 15–18-year-olds. Contact us for more information.
Get in touch!
La Vida Adventure Pursuits
255 Grapevine Road
Wenham, MA 01984
Adventure Pursuits is a program of the La Vida Center for Outdoor Education and Leadership at Gordon College located on the North Shore of Boston. La Vida houses six different programs for the community including a day camp for middle schoolers, a rock gym and challenge course activities for all ages. La Vida provides spiritual development and leadership experiences for Gordon students as well as community organizations utilizing Gordon's campus and our Base Camp in the Adirondack mountains of New York.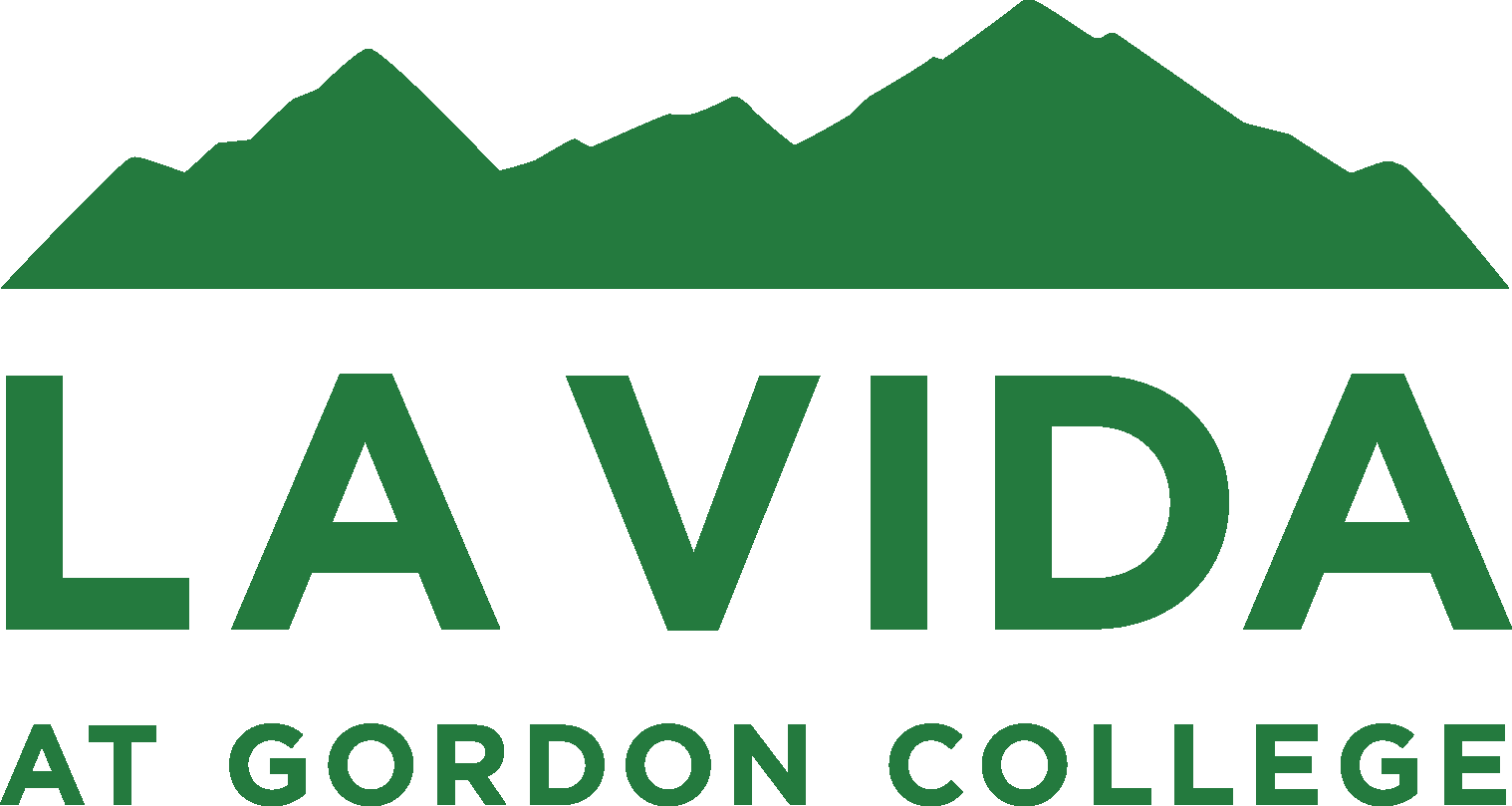 Subscribe to our Newsletter
Be the first to hear about new opportunites in the La Vida Center.