GORDON COLLEGE STUDENTS CLIMB FOR FREE
Climb with Confidence
The La Vida Rock Gym is an encouraging environment where climbers are encouraged to learn new skills, push themselves and have fun. Here's what to expect:
Gordon College students climb for free!
Ages 3–adult can boulder and climb
Bouldering routes rated V0 through V6
Top rope routes rated 5.6 through 5.12
Complimentary belayers
Harness and basic instruction included
Shoe rental available for $1
All climbers must sign a medical and emergency contact form as well as a policy form before they can climb
Parents must accompany children at all times
Climbers may either purchase a day pass to be used during the open gym hours that day, a 10-visit membership, or a 20-visit membership. Memberships do not expire and can be used on any day the rock gym is open. You can purchase a pass during open gym hours and pay via cash, a check made payable to Gordon College, or a credit card. 
Day Pass
 $10 Gordon College affiliates

$12 Gordon-Conwell affiliates

$14 General Public
10-Visit Membership
$75 Gordon College affiliates

$90 Gordon-Conwell affiliates

$105 General Public
20-Visit Membership
$120 Gordon College affiliates

$145 Gordon-Conwell affiliates

$170 General Public
CLOSURES
We follow the same break schedule as Gordon College. We keep this page as well as our Google listing up to date with current closures.
Climber Reviews
Join a community of climbers who are reaching new heights. See what they have to say!
"Much cheaper than the other rock gyms around. It's a small place, but that's fine for people who don't need a ton of routes." –Maurice
"This place is amazing. I took my 7 year old daughter here and within a short time she was scaling 35-40 foot walls! The staff were friendly and patient with the dozen or so kids waiting their turn to climb. Great job by the staff! This place has a great atmosphere. The kids were rooting each other on and cheering when one of them completed a climb. Love La Vida Rock Gym!" –Chris
"Staff is very helpful and friendly. They did a great job encouraging my 8 year old. He went higher and higher with each climb. My older son was impressive. Great facility and staff!!! We can't wait to go back!!!" –David
"Even though I'm terrified of heights, I had a great time here because the staff was encouraging and supportive! They cheered me on even if I only got half-way up the wall!" –Christy
"La Vida's Rock Gym is an excellent place to get plugged in for some creative, adventurous fun! The staff are always ready to encourage you to challenge yourself and celebrate your successes!" –Aaron
Quick FAQ
Contact us with any additional questions not answered here. 
What methods of payment are accepted?
We accept cash, credit card or a check made payable to Gordon College. 
Do I need a waiver?
All climbers must sign the La Vida Confidential Medical and Emergency Form as well as the Rock Gym Policies Form. If you are under 18, you must have a parent or legal guardian sign on your behalf. Signing these forms ensures you understand the risk involved with rock climbing as well as ensuring we keep a positive atmosphere in the Rock Gym.
If you have previously filled out the waiver, you can let a staff member know. They will confirm that we have it on file, and you do not have to fill it out a second time.
Do I need an appointment?
You do not need an appointment to climb during open gym hours. If you'd like to call the rock gym before arriving, you can do so at 978.867.4911. Please note that we do not have one person dedicated to the phones. If no one answers, staff are probably belaying someone. Please leave a message and they will call you back.
How do I become belay certified?
All climbers interested in belaying are strongly encouraged to take our belay class, whether they are brand new belayers or experienced climbers in need of a refresher. The class runs approximately 2 hours depending on the experience of the participants. Topics include equipment inspection and use, 10-point safety check, local operating procedures, rock gym policies and brake-ready belay technique.
The cost is $10 per person which covers the course, supervised practice as needed and the belay test. Belay tests typically happen a week or more after the initial class, depending on experience. Participants must be at least 14 years old to belay. Please visit the Rock Gym during Open Gym hours to sign up. Belay classes will be offered monthly based on the sign-up list.
Experienced belayers who are competent in the brake-ready belay method may opt to take a belay test during open gym.
What is bouldering?
Bouldering is a form of free climbing that is performed on small rock formations or artificial rock walls without the use of ropes or harnesses. There is one wall dedicated to bouldering, and bouldering around the gym is encouraged as long as it does not interfere with a climber or belayer.
What should I wear?
We recommend wearing athletic clothing that is comfortable and allows you to move and climb along the wall. Think function over fashion! Those with longer hair should have their hair pulled back if they are belaying so that it doesn't get caught in the belay device. Sneakers can be worn for climbing or you can rent shoes for $1.
Do you offer private lessons?
We offer private one on one instruction as well as semi-private lessons with no more than four students. These lessons are for individuals who want to learn to climb or improve their technique through personalized instruction and training. Learn more by visiting our lessons page.
Can I use a membership pass on someone else?
You can use a membership pass on another person. Your membership card would receive one extra punch per guest, and you would lose that many personal passes.
What is a Gordon College affiliate?
Affiliates of Gordon College include staff, faculty, alumni, and the immediate family of staff, faculty, alumni, or current students.
What is the Rock Gym's COVID-19 policy?
La Vida Rock Gym
Celebrating over 25 Years of Indoor Climbing
The La Vida Rock Gym is a place that empowers individuals to discover their own strength, celebrate victories, and build community. In a supportive and encouraging environment, we welcome everyone into the fun and adventure of climbing. Our trained staff are equipped to serve you and your family and friends in a safe climbing experience. Our vision is to serve the local community with accessible and affordable indoor rock-climbing experiences that inspire people to explore their potential and take on new challenges.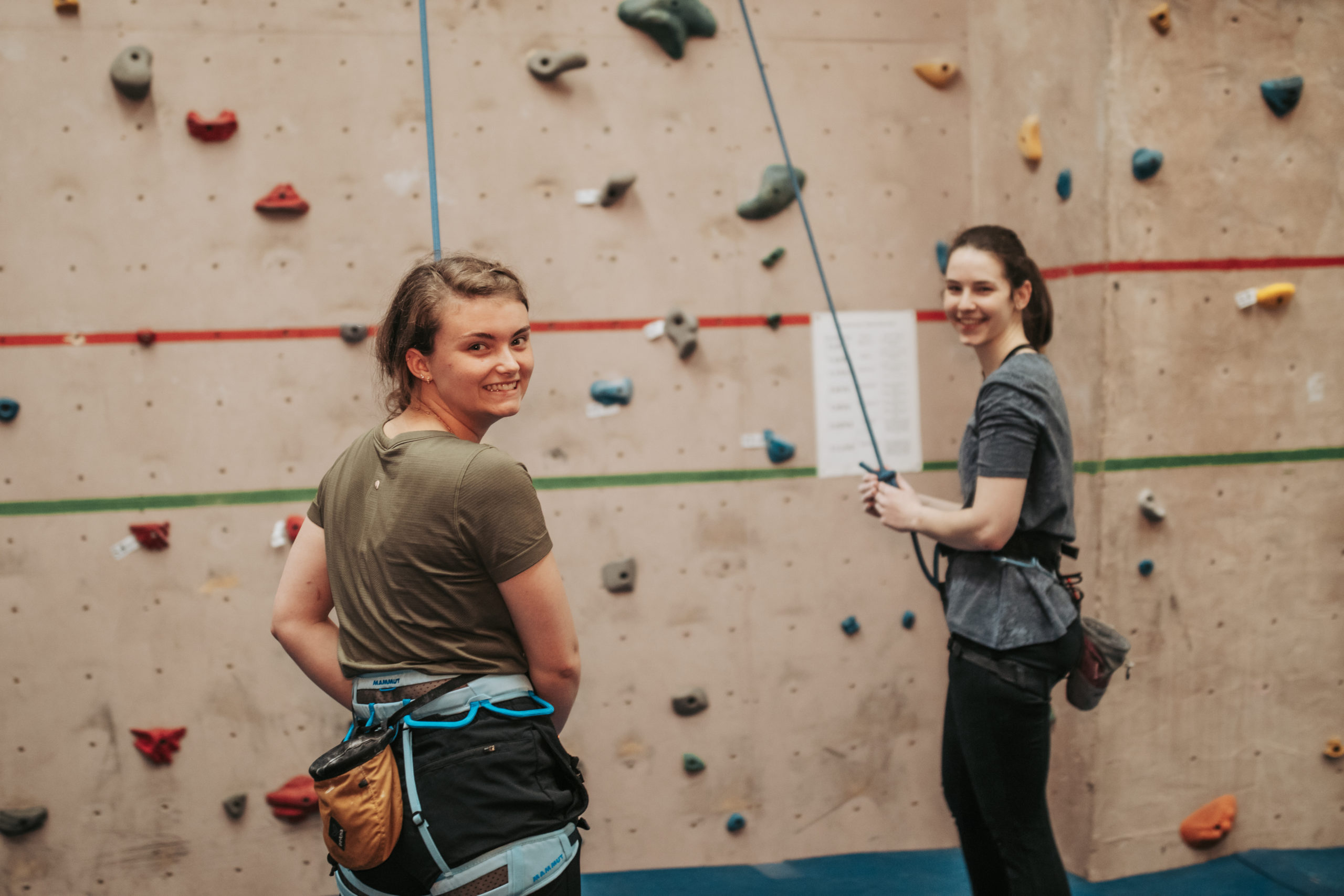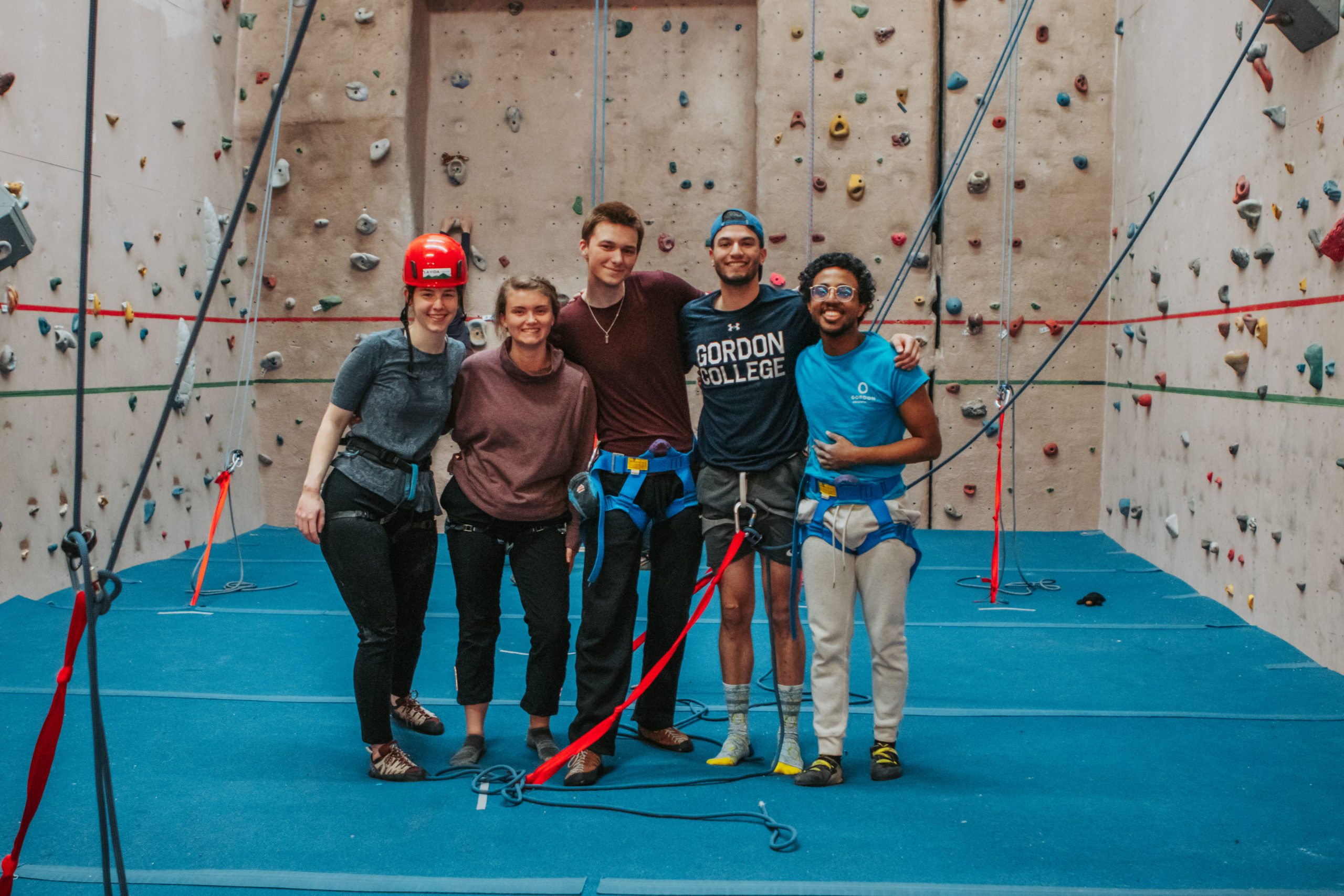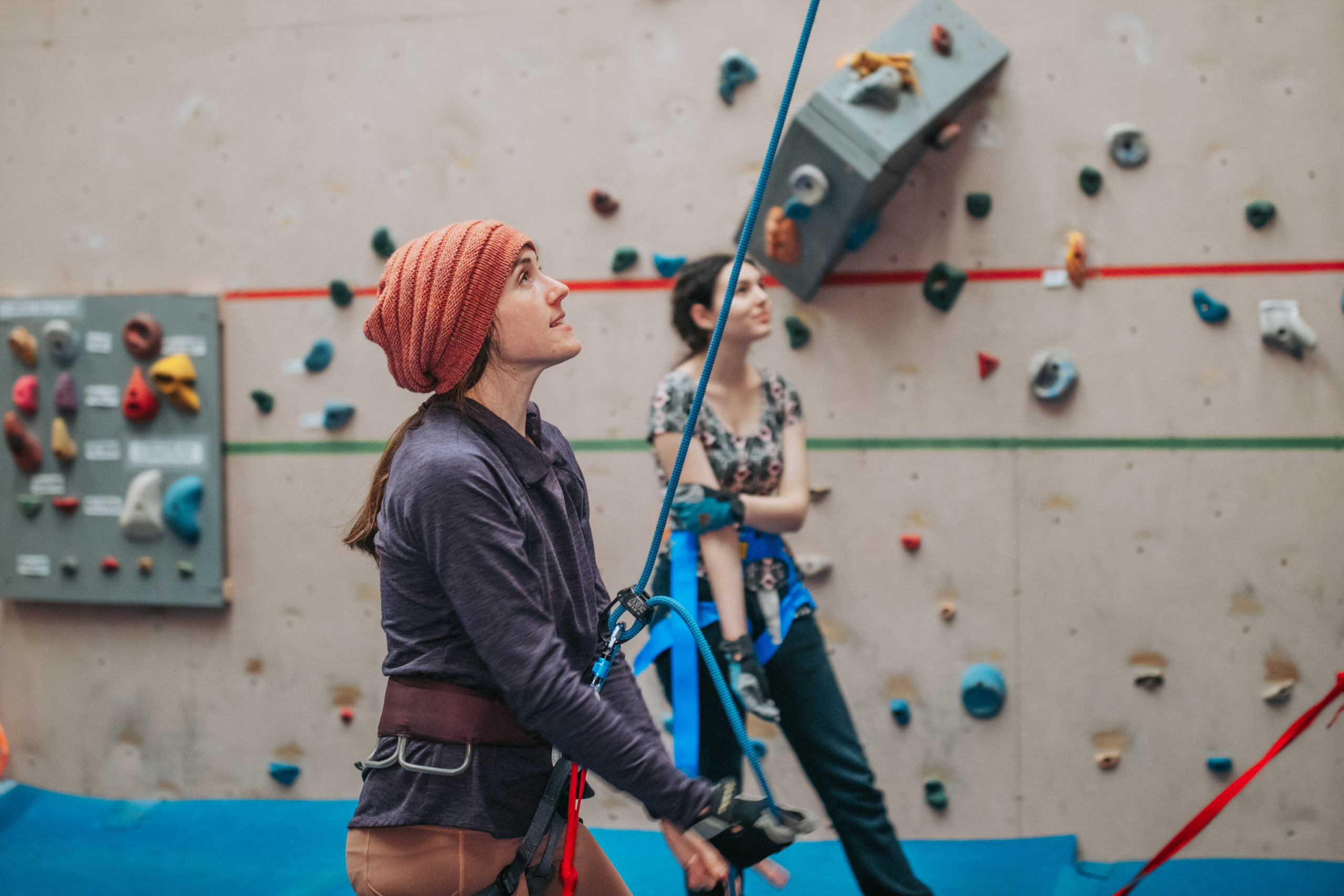 Get in touch!
La Vida Rock Gym
Located in the Bennett Center at Gordon College
255 Grapevine Road
Wenham, MA 01984
Rock Gym Manager:
978.867.4513
Josh.Miyares@gordon.edu
Contact a staff member during Open Gym:
978.867.4911
The La Vida Rock Gym is part of the La Vida Center for Outdoor Education and Leadership at Gordon College located on the North Shore of Boston. La Vida houses six different programs for the community including our summer day camp for middle schoolers, canoeing and hiking expeditions for high schoolers and challenge course activities for all ages. La Vida provides spiritual development and leadership experiences for Gordon students as well as community organizations utilizing Gordon's campus and our Base Camp in the Adirondack mountains of New York.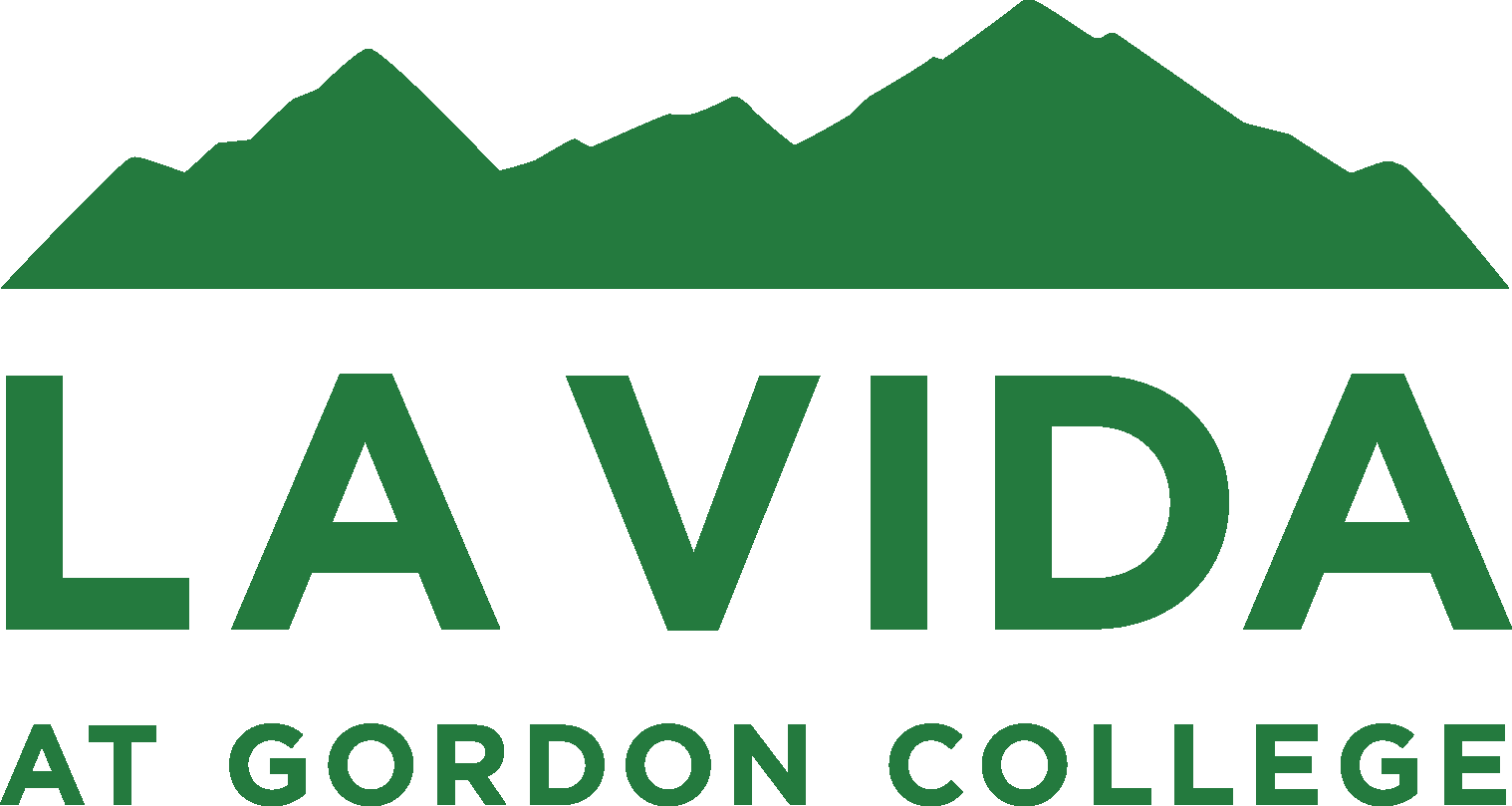 Subscribe to our Newsletter
Be the first to hear about new opportunites in the La Vida Center.