By Amber Hausman
Last summer, Nate and I went to the newly renovated Hotel Saranac for a date night of dinner and dancing. We entered the ballroom a little timid and waited for the class to start. As we moved along to the beat, we heard our instructor, Vanessa Pillen, counting down to start the first salsa move of the night– the basic "rock step". "1, 2, 3, hold 4, 5, 6, 7, hold 8" counted Vanessa as Nate and I tried to keep in tempo while also move our hips to the beat. "Am I doing it right?" asked Nate as he overemphasized each step. "Close," I said with a wink, and we continued with the lesson. I looked around the room and saw people of various ages and definitely various salsa abilities, but everyone was smiling and having a good time. Any nerves or embarrassment passed away as Vanessa gave us a big smile.
Vanessa Pillen was born into a dancing family. Her mother is from Cuba and her grandfather was a Spanish radio DJ in Boston, so she was dancing before she could walk. When she was three years old, she started taking classes and her creativity blossomed. She would dance on her own in the corner, making up her own moves as the rest of the class followed the teacher's instructions. "She's not cut out for dancing," the teacher told Vanessa's mother. Vanessa later danced at another studio in Boston called Impulse Dance Center where she became a member of the Connecting Pointe Dance Company. She was taught by LuAnn Pagella who would be a source of inspiration as she grew in her own style of dance.
Vanessa always dreamed of opening a dance studio of her own someday, but she thought it would be just that…someday. After Vanessa had her second child, she attended a local MOPS group and met Mandi Maiore. The women were asked to share something that they didn't think the group would know about them, and Mandi shared that she loved to dance and wanted to open a dance studio. Mandi trained at The School of the Minnesota Ballet which is hailed as the "most sophisticated ballet academy in the Northland region" and continued dancing, performing and choreographing into her adult years. The dreams of these two women collided at this MOPS group, and Vanessa and Mandi began meeting to turn these dreams into a reality.
The Dance Sanctuary opened its doors in 2017 and has grown tremendously since. God has used it to bless families in Saranac Lake and provided opportunity to expand into Tupper Lake. This fall they are partnering with Northwood School in Lake Placid to offer a dance program for high school students. This studio has become a "true sanctuary… a safe place where all students young and young at heart can dance and be loved and supported for who they are right where they are."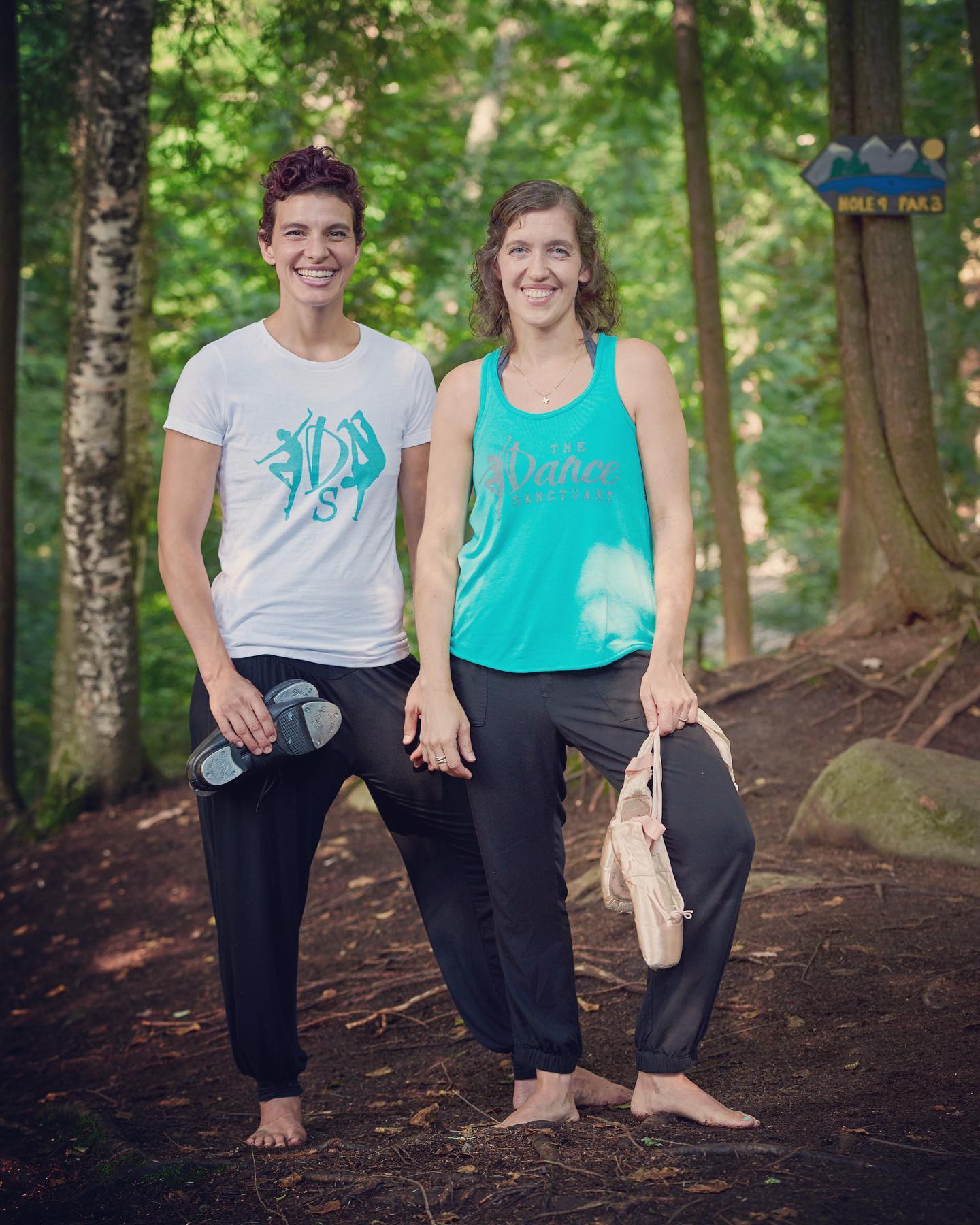 Vanessa and Mandi are both Christians, but never thought of calling their studio a "Christian" studio. Vanessa has seen how fruitful ministry can be in the ordinary everyday life by example of her father who is a pastor as well as a mail carrier with USPS. She has seen how God has used him to minister by the mailbox to the people he's built relationships with over the years. And now God is using Vanessa and Mandi to pour life back into these Adirondack communities. Their ministry is teaching kids how to plié and rond de jambe, how to chassé and leap into the air. They're providing spaces for adults and couples to learn a new skill together. Vanessa says "If my mission is to love people and share Jesus, it is going to be in all that I do. I am broken and imperfect, but I have a God that can use that. God can take my broken pieces and put them together like a stained-glass window and then He can shine through that brokenness. We love our community as Jesus calls us to through the art of dance. We show Jesus in the way that we instruct, in the way that we handle our business, in the way that we communicate with our neighbors, in the way that we navigate through hard times and heartache."
Owning a business can be a daunting task, especially in light of COVID-19. Vanessa continues to hear the words "be here now". She says "I am reminded that time in solitude seeking God gives me the chance to listen to His voice. I need to spend time with my Shepherd to recognize His calling and His direction. This journey has brought about discomfort, but I can make that commitment move and trust. God is with me every step of the way. 'On belay?' God answers me, 'Belay on'. 'Okay Lord, I am climbing'. And God answers, 'Climb on.'"
Vanessa Pillen '05 participated in her La Vida Adirondack Expedition trip in spring 2004 and came back to lead a canoe patrol in 2005. She was a biblical studies major and missions minor at Gordon College and received her master's in educational administration from Grand Canyon University. She and her husband, John, and five children reside in Saranac Lake and visit the base camp often during the summer. If you're looking more dance inspiration, check out The Dance Sanctuary's Vimeo page for dance tutorials!