LA VIDA ADVENTURE CAMP
Frequently Asked Questions
La Vida Adventure Camp is licensed by the Wenham Board of Health and meets or exceeds all Massachusetts Department of Public Health regulations. If you would like a copy of our background check, health care, discipline, or grievance policies or have another question not covered below, please
contact us
so that we may better assist you.
Where can I register for La Vida Adventure Camp?
In efforts to preserve the environment and keep costs down, we are working towards going paperless. All camp registration is now online and available here
. If you register but do not receive a confirmation e-mail, please contact us at
978.867.4504
to confirm that our system processed your registration correctly. All necessary information should be available through our website or in your confirmation email.
What time is camp drop off and pick up?
Registration for camp on Monday opens at 8:45 a.m. Camp runs from 9 a.m.–4 p.m. Monday–Thursday. There is no pick-up for the Explorer campers on Thursday (because of the overnight campout). Friday includes an end-of-week Camp Celebration for campers and families beginning at 3:30 p.m. and finishes up at 4 p.m.
Are campers allowed to leave early?
Yes. If you know your child will be missing a day of camp, needs to leave early or will be late, please call our camp registrar at 978.867.4504 to let us know. Talk with your child's counselors to find out what activities they will be missing.
What should my child bring to camp?
Backpack
Lunch
Water bottle
Swimsuit and towel
Rain jacket
Hat and/or sunglasses
A warmer layer in case of colder weather
Sunscreen
Bug spray
An adventurous attitude!
A packing list for campers staying overnight at Gordon or in New Hampshire will be provided the week of camp.
What equipment do you provide?
La Vida Adventure Camp provides bikes, helmets, canoes and kayaks for all activities. If a camper has their own mountain bike (provided it's properly sized and in good working condition), we recommend that they bring it to camp and use it instead of a camp bike. Likewise, we encourage campers to bring their own helmets as well.
For the overnight camping trips, all tents, sleeping bags, sleeping pads and cooking equipment can be provided.
What if my child can't swim or ride a bike?
We encourage campers to try camp activities, even if they don't have much experience with them.
Whenever participating in water activities, there will be a lifeguard on duty. In addition, for all activities in a depth greater than 3′, all campers must wear a lifejacket. If a camper does not feel comfortable getting in the water with these precautions in place, other options can be discussed.
Our biking specialists are trained to teach campers the basics. All groups start with an assessment on a beginner trail before potentially attempting more advanced trails when warranted. If a camper doesn't feel comfortable biking with the group, we may have them join another group for that activity time. Once mountain biking is over, they can rejoin their original group.
What age do children need to be to attend camp?
In order to attend the Pathfinders program, it is recommended that campers be 10 years old by the beginning of the camp session they're attending. Our policy for registration is that Pathfinders campers turn 10 by August 31st of the summer they are attending. In order to attend the Explorers program, it is recommended that campers be 14 by the beginning of the camp session they're attending. Our policy for registration is that Explorers campers turn 14 by August 31st of the summer they are attending. In order to apply for the Adirondack Leadership Program, campers should have completed one year of high school and turn 15 by the end of August.
For more information about ALP, please click here. For more information about our Counselor in Training program (for 16–18-year-olds), please click here.
What happens if it rains?
It depends on the severity of the rain and whether or not the storm includes thunder and lightning. In cases of light rain on a warm day, we often continue enjoying camp outdoors. But in times of more severe weather, we have many indoor spaces around campus that camper groups can use. In those situations, our registration, drop off, and pick up location moves from the field across from the Bennett Center ("T" on
this map
, next to the "P1" parking area) to the La Vida Activity and Training Center ("N" on the
same map
, next to the "P2" parking area).
Are 10-year-olds placed with 15-year-olds? Can my child be with four or more of their closest friends?
We do our best to organize groups while looking at age, grade, sex, hometown, and any friend requests made. So while 10- and 11-year-olds may be grouped together, 10- and 13-year-olds will not, and Explorers (our 14- and 15-year-olds program) have a separate day-to-day schedule as well. So 10-year-olds will not be placed with 15-year-olds.
Upon registering, you'll receive an automated confirmation email for the transaction as well as a separate email sent by our Registrar with additional forms. Those forms include a space to make any friend requests.
We would recommend that campers not request friends who are more than a year different in age from requesting each other as it often leads to one of them being the only one of their age in a group. In addition, while you can make as many requests as you would like, we would ask that you prioritize one or two of your child's friends to be with. We often get conflicting requests, and we cannot guarantee any specific requests. However, we have never been unable to meet a request for a single friend when given sufficient advance notice. Having run into repeated and significant issues with several friends being together in a single camp group and the isolating effects on other campers within that group, we will aim to spread large friend groups across multiple camp groups, partnering each camper with at least one of their friends.
We take time to thoughtfully form our camper groups the Thursday before a camp session. Any camper requests made before we begin (so by Wednesday evening) are taken into account. This is a lengthy process. After groups have been made, requests can no longer be honored. If a camper registers for a week after the preceding Wednesday evening, they will be added to a group as availability allows. We will still do our best to match them with a group of campers similar in age, but they may not end up with friends from the same week.
We think that camp is a great opportunity whether or not you know someone in your group. Several of our current and former Counselors in Training and staff experienced Adventure Camp without knowing anyone in their group. Their experience was so enjoyable that they returned year after year and continued to invest in the lives of campers. We hope your camper, whether coming in with a friend or not knowing anyone, will have a similar fun time!
What does a typical day look like for the Pathfinders (ages 10–13)?
Below is a sample day for the Pathfinders, but each day will look different for groups. All groups will participate in low ropes team-building, mountain biking, high ropes, canoeing, kayaking, and rock climbing by the end of the week.
| | |
| --- | --- |
| 9 a.m. | Drop-off |
| 9:05 a.m. | Staff skit and announcements |
| 9:15 a.m. | Games |
| 9:45 a.m. | Morning snack |
| 10 a.m. | Team-building initiatives |
| 11:45 a.m. | Character discussion |
| 12 p.m. | Lunch |
| 12:45 p.m. | Adventure activities |
| 3:30 p.m. | Moment for reflection |
| 4 p.m. | Pick-up |
What does a typical day look like for the Explorers (ages 14–15)?
Each day will include different adventure activities. While on campus, a day may look much like the example listed above for Pathfinders. But Explorers have the opportunity to challenge themselves in more difficult team-building initiatives, enjoy rock climbing at various rock sites, experience offsite waterfront activities, overcome more challenging high course elements and build deeper friendships during an overnight campout. The days also include playing games, eating snacks, character building, and discussing activity takeaways. Your camper's counselors will discuss any specific gear or clothing requirements for upcoming days with your campers ahead of time.
How does the Adirondack Leadership Program (ALP) differ from other camp options?
That's a great question. You can find more information about ALP here.
What is the Camp Celebration on Friday?
The Adventure Camp Celebration runs from 3:30 p.m.–4 p.m. on Fridays. Parents, siblings, and campers are invited to attend this indoor end-of-week Celebration, which includes a staff skit, a video and a slideshow. The slideshow, video and camper skits will be available on our YouTube channel.
What does Christian perspective mean?
La Vida Adventure Camp is part of Gordon College's La Vida Center for Outdoor Education and Leadership. Gordon is a liberal arts Christian college that operates from a multidenominational worldview. Adventure Camp is staffed by Gordon students whose goals are to facilitate experiences and discussions that foster character development, positive self-identity, and a commitment to care for and serve others from a Christian perspective. Discussions, reflection times, character lessons, and activity debriefs may include discussions regarding God's love and the value of caring for and serving others. Adventure Camp staff respect kids and families of all faiths and believe conversations can develop understanding between people of different views.
Why did your price increase?
La Vida Adventure Camp is not for profit and we are committed to providing a positive, high-quality environment for all campers. While our physical equipment accounts for part of our costs, the majority of our costs go toward compensating our incredible staff. Since 2014, the Massachusetts minimum wage has increased by over 60% and will continue to increase. Adventure Camp has worked hard to keep costs down. However, an update to our prices was necessary to continue providing this wonderful experience for campers for years to come. See questions and answers below for additional information.
Do you offer discounts or financial aid?
We offer an early bird discount for campers registered by January 31 and another $25 discount for placing an Adventure Camp yard sign in your yard in late spring through the beginning of summer. Yard signs may be returned at the Monday registration of each camper's first session or kept for the following summer and additional discounts.
A 10% sibling discount is applied to each sibling attending Pathfinders or Explorers (for the same number of weeks). This discount will only be applied if noted on the application form. The early bird, yard sign and sibling discounts do not apply to Adirondack Leadership Program participants.
We at La Vida care about all campers, and we don't want cost to prevent anyone from coming to camp. Thanks to our community of supporters, financial aid is available. If interested, apply with these forms.
Contact us with additional questions about discounts or financial aid.
Does Adventure Camp qualify as childcare for tax purposes and some work reimbursement programs?
Yes! Our tax ID is 042-104-258. Please contact your tax preparer or employer for more information.
I've heard great things about Adventure Camp. How can I help other children attend?
We appreciate your enthusiasm! If you have someone specific in mind, feel free to coordinate camp registration fees directly with that camper's parent or guardian. If you'd like to remain anonymous, we can act as a "go-between" to provide a child's camp opportunity without revealing your identity. If you don't have someone specific in mind, please consider donating to our need-based scholarship fund, mentioned above. If you have questions or other ideas about how to positively impact campers' experience, please contact us. We also appreciate reviews on Google.
What is Adventure Camp's COVID-19 policy?
La Vida Adventure Camp follows the current state of MA Department of Public Health and the local Board of Health regulations for implementation of best practices for our outdoor-based camp.
La Vida Adventure Camp COVID-19 policies are:
Hand sanitizer or hand washing will be available prior to all meal and snack times and required after any bathroom visit.
We will continue to ask parents/guardians to confirm that campers have not been a close contact or have any COVID-19 symptoms in the week before camp starts and to notify us as soon as possible if this changes at any time during the camp session.
Get in touch!
La Vida Adventure Camp at Gordon College
255 Grapevine Road
Wenham, MA 01984
Adventure Camp is a summer program of the La Vida Center for Outdoor Education and Leadership at Gordon College located on the North Shore of Boston. La Vida houses six different programs for the community including our summer day camp for middle and high schoolers, a rock gym and challenge course activities for all ages. La Vida provides spiritual development and leadership experiences for Gordon students as well as community organizations utilizing Gordon's campus and our Base Camp in the Adirondack mountains of New York.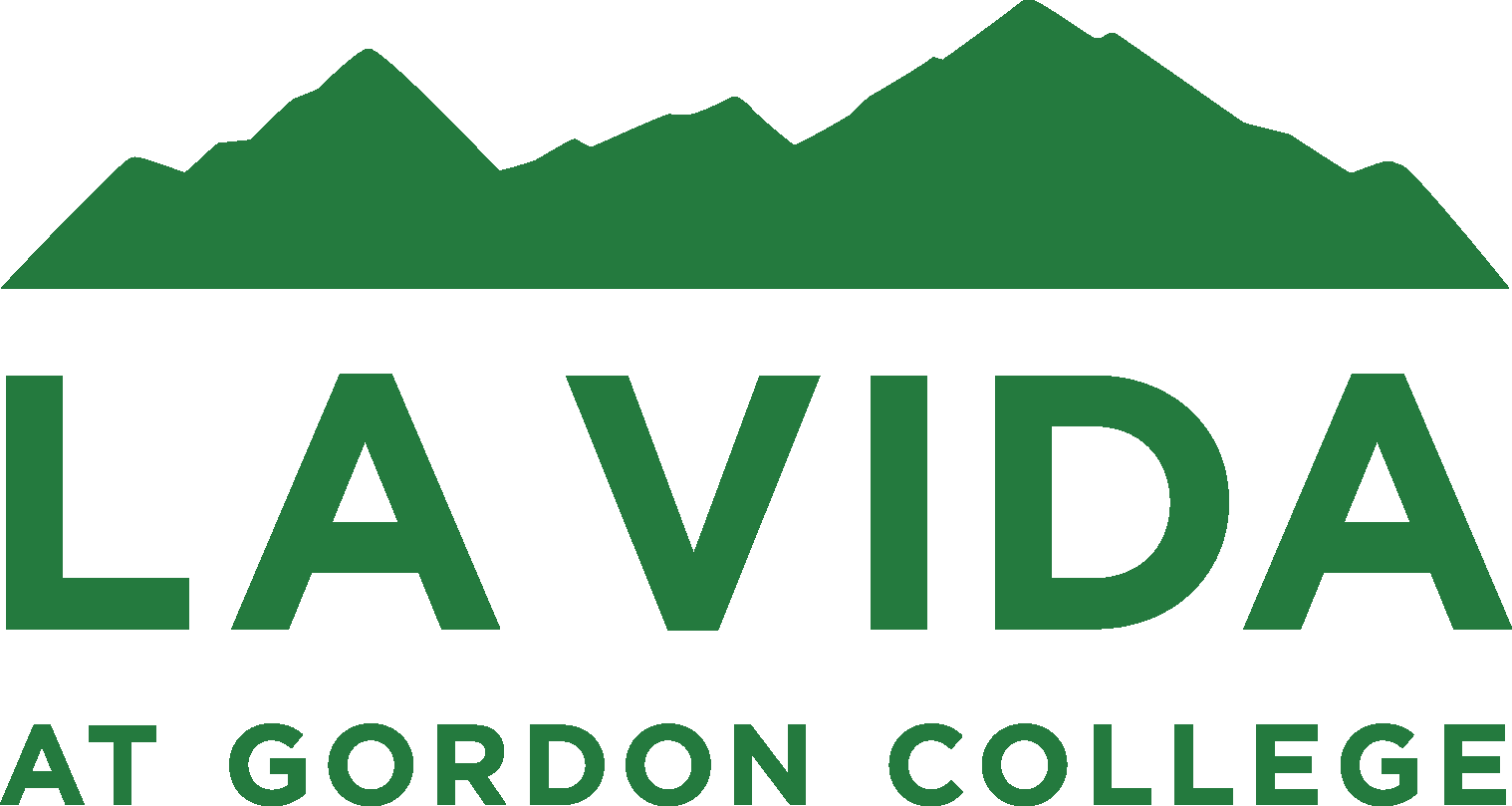 Subscribe to our Newsletter
Be the first to hear about new opportunites in the La Vida Center.